Welcome to R3-PowerUP Homepage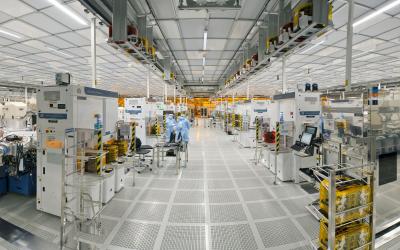 R3-POWERUP is committed to challenge the following Objectives:
Development and demonstration of a brand new 300mm advanced manufacturing facility addressing a multi-KET Pilot Line (i.e. Nanoelectronics, Nanotech, Adv. Manufacturing)

The Pilot Line will build on Digital Factory and Industry 4.0 principles, enforcing a flexible, adaptive and reliable facility that will push forward the state of the art of nanoelectronics manufacturing in Europe.

It will push a major improvement in productivity and competitiveness for integrated IC solutions for smart power and power discretes technologies.

The application of such technologies will be a breakthrough enabler for Energy Efficiency and CO2 Reduction worldwide, in line with COP21's resolution.
Consortium & Budget
35 partners, 14 Member States, Total H2020 Eligible Cost: about 180 MEUR
The project has started on November 2017 and will run for 66 months.